ECONOMIC ANALYSIS HIGHLIGHTS IMPORTANCE OF SALMON FARMING IN SURREY
Campbell River, B.C. – An independent economic analysis released today reveals hundreds of Surrey jobs are at risk following a decision by the federal Liberal government to force the closure of salmon farms in the Discovery Islands region off Vancouver Island's coast.
While Campbell River is Canada's salmon farming capital, Surrey is the hub of salmon farming in Metro Vancouver, home to numerous operations in salmon feed milling, fish processing, trucking, packaging, and the provision of goods and services.
"The salmon farming industry in B.C. is interconnected, with an extensive supply chain," says John Paul Fraser, Executive Director of the B.C. Salmon Farmers Association. "Closing our farms in the Discovery Islands shuts down a quarter of our production in B.C., which significantly reduces how much feed is needed, how many fish will be coming into the processing plants, packaging, the number of trucks needed to transport fish, and shipping. Much of this work is done in Surrey."
The BC Salmon Farmers Association released the report today prepared by RIAS Inc., an independent economics firm, analyzing how the federal government's December 17, 2020 decision closing salmon farms in the Discovery Islands area puts jobs and economic development at risk in Surrey, B.C. This analysis (the "Surrey Supplement") is a companion to a larger report by RIAS Inc. released February 23, 2021 titled, "Consequences of the Decision to Shut Down Salmon Farming in the Discovery Islands." Discovery Islands farms produce a quarter of the farm-raised salmon in B.C.
RIAS Inc. found salmon farming companies have direct economic impact in Surrey from fish processing, feed milling, truck transportation, packaging, and warehousing and distribution operations in that municipality. Direct impacts within Surrey attributed to salmon farming companies include:
$220 million in annual revenue;
$46 million in GDP;
344 full-time jobs; and
$24 million in annual salaries.
Province-wide indirect and induced economic impact generated by Surrey's salmon farming hub include:
Over $363 million in annual revenues;
$122 million in GDP;
1,189 full-time jobs; and
$65 million in salaries. 
"The report very likely underestimates the impact of salmon farming in Surrey," says report author Doug Blair, an Economist and President of RIAS Inc. "It doesn't account for the likelihood that the impact in Surrey will be outsized as the salmon farming industry faces a 24 per cent decline in production, it will be forced to consolidate processing operations on Vancouver Island to maintain economies of scale. What is clear, however, is that a substantial number of jobs will be lost in Surrey as salmon farmers attempt to adapt to the impacts of the federal Liberal's Discovery Islands decision over the next year."
The BCSFA is calling on the federal government to consider a more responsible path forward to minimize impacts on British Columbia's coastal communities:
Time – B.C. salmon farmers are asking that the decision be set aside to give everyone with a stake in salmon farming time to develop a plan to minimize the serious impacts of this decision.
Transfer – Millions of juvenile salmon already in hatcheries and other facilities will have to be destroyed if the decision stands. Salmon farmers are calling on the government to allow them to transfer fish already in their systems to the farms to complete their lifecycle.
Table – Salmon farmers are asking the government to bring all parties together in an inclusive and transparent process to find a better way forward and create unity in communities.
The full report can be found here: https://bcsalmonfarmers.ca/surrey/
Watch the Surrey impact video here: view here 
Quotes: 
Dean Dobrinsky, Director of Human Resources, Safety and Communications, Mowi Canada West –
"Minister Jordan's disastrous, ill-informed decision to cancel salmon farming in the Discovery Islands has far reaching implications. Her unsupported decisions have jeopardized the immediate future of the Surrey Processing plant and the hundreds of jobs that support this sustainable sector, B.C.'s largest agricultural export."
Nav Nijjer, Owner, Shoreside Workforce –
"This decision happened so fast; it's already starting to impact my people working in fish processing. I think the biggest thing for us is the uncertainty that it brings for our Surrey workers. We haven't been given any information and now my people are left wondering if they'll have a job in a few months."
Ravi Jouhal, General Manager, SureCold Refrigerated Storage –
"Everyone's concerned. I get questions every day from my team asking about the future. I don't have answers, we don't know what's going to happen. I was born and raised here in Surrey and knowing how important the salmon farming sector is to our community makes this situation that much tougher."
Quick Facts:
On Dec. 17, 2020, Fisheries, Oceans and the Canadian Coast Guard Minister Bernadette Jordan ordered all salmon farms in the Discovery Islands removed by June 30, 2022 and that those farms cannot be re- stocked starting immediately.
If the decision is left unaltered it will shut down more than 24% of B.C.'s farmed salmon production, resulting in hundreds of job losses, euthanization of millions of fish, and the loss of millions in annual GDP.
This decision was made without consulting the industry or local communities and runs contrary to science.
On February 23, 2021 BCSFA released an economic analysis on the damage this decision will have on the industry if left unaltered. See here: https://bcsalmonfarmers.ca/discoverydamage
The decision puts the entire $1.6 billion industry, producing more than 6.5 million meals weekly (three-quarters of salmon harvested in B.C. annually), at risk.
B.C. salmon farmers are asking the minister to revisit her decision and work with all stakeholders to find a better way forward.
Media contact:
Michelle Franze
Manager of Communications, Partnerships and Community
PHOTO CUTLINES: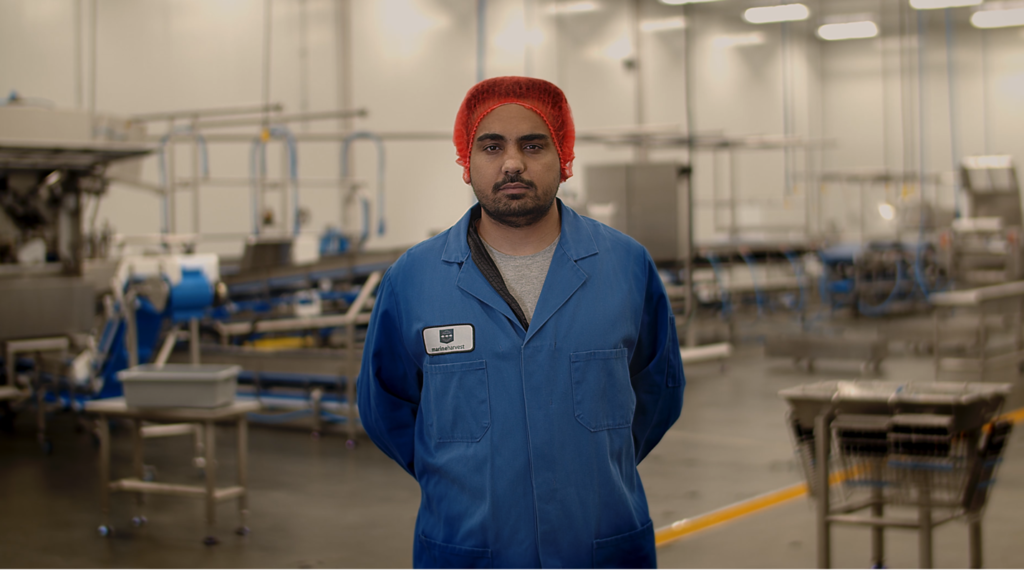 Raman, Shoreside Workforce, Surrey B.C.
Kushpreet, Shoreside Workforce, Surrey B.C.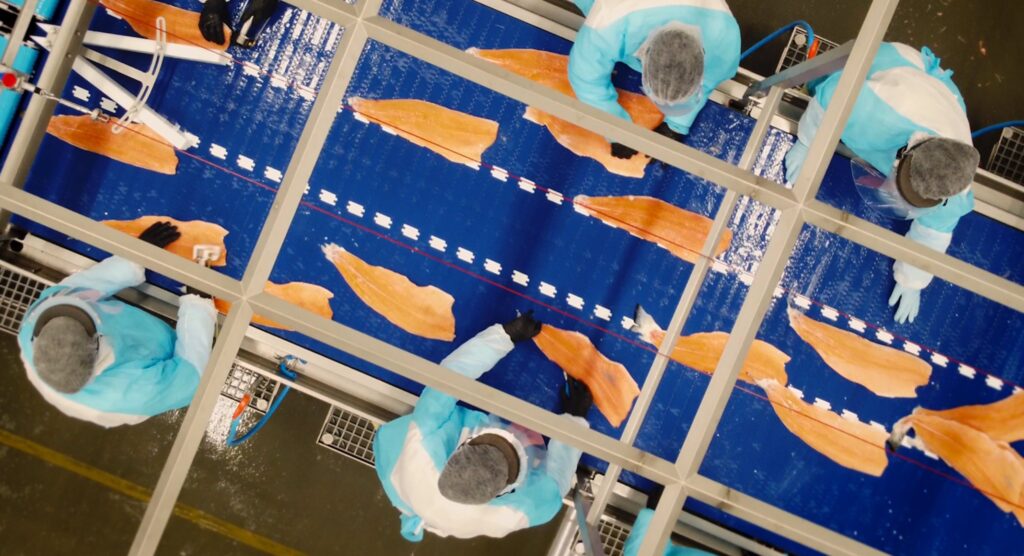 Farm-raised salmon being filleted and processed in Surrey B.C.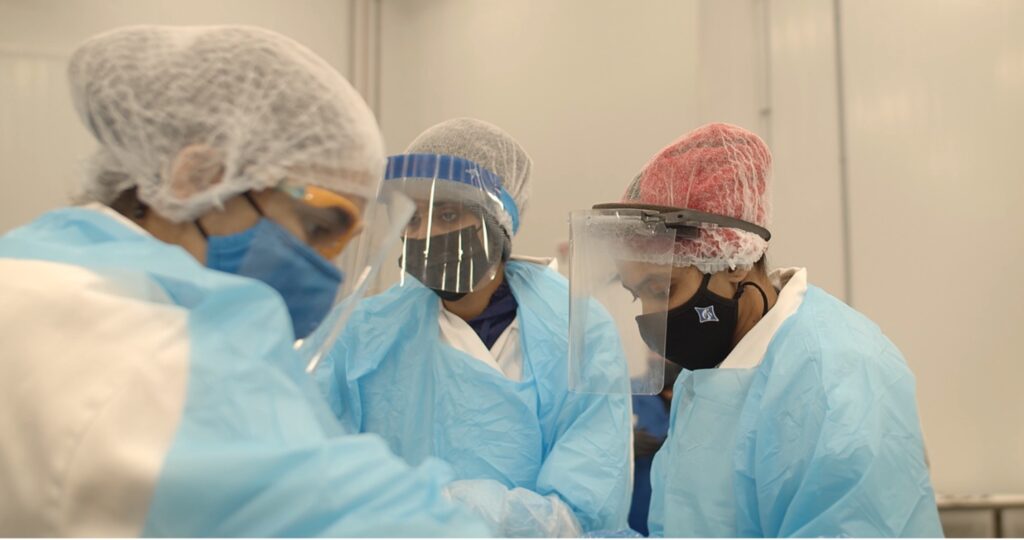 Fish processing workers fillet farm-raised salmon in Surrey B.C.