On August 18, 2023, CTV News Vancouver aired an interview with an anti-salmon farming campaigner, claiming the high Fraser River pink salmon returns are due to the removal of salmon farms. This video has now been removed from the CTV website.
CAMPBELL RIVER, BC – The BCSFA is pleased that CTV News Vancouver removed a TV news segment from its website after it was identified that the broadcast contained numerous false claims by an anti-salmon farming campaigner. No material experts (nor BCSFA) were contacted in advance to verify or challenge the claims.
The claim that this year's high Fraser River pink salmon returns are due to the removal of some salmon farms in BC is the latest in a series of incorrect conclusions based on false assumptions targeting the BC salmon farming sector that have regrettably been promoted and unchallenged on mainstream news.
Here is what thousands of viewers heard on CTV on August 18:
"BC's pink salmon population is dramatically increasing after the province shut down more than a dozen salmon farms" (FALSE – see image below summarizing DFO data)
"It got so low that everybody thought extinction was the next stop – and then they took the fish farms out" (FALSE – see image below summarizing DFO data)
"There's a direct correlation between fish farms and wild salmon" (FALSE – see image below summarizing DFO data)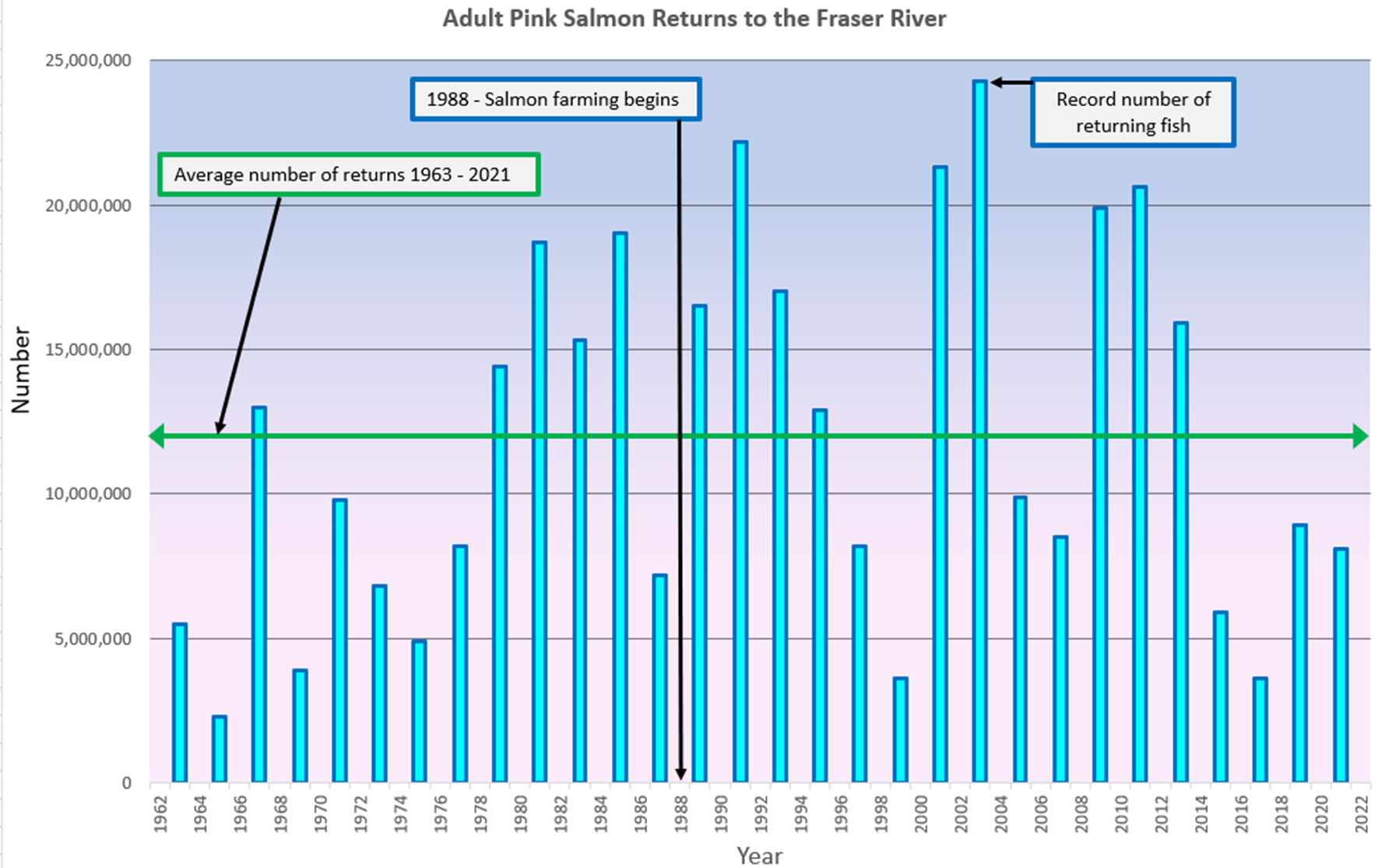 The pink salmon's success has nothing to do with local impacts and everything to do with global ocean conditions favouring the pink salmon. Read more at Celebration or Concern? The Global Pink Salmon Boom – BC Salmon Farmers Association
Anti-salmon farming campaigners are presenting these false claims to the media to try and influence negative political and public opinions of salmon farming while ignoring the fact that pink salmon are booming everywhere regardless of whether salmon farms are active or not.
This strategy is not new to our sector – BC salmon farmers have been correcting the erroneous claims of anti-salmon farming activists for years, and BCSFA responded to the same pink salmon claim made last year. This constant spread of misinformation has cost taxpayers millions of dollars and is unfair to the thousands of families and professionals who work in our sector, care for the marine environment, and take pride in what they do.
On behalf of the thousands of people working in the BC salmon aquaculture sector, we thank CTV News Vancouver for removing a TV news segment that included false claims.
ABOUT THE BC SALMON FARMERS ASSOCIATION
BC salmon farmers are committed to reconciliation and operate under multiple agreements with First Nations in whose territories they operate. These agreements are founded upon recognizing First Nations' right to exercise jurisdiction over the land, resources, and waters within their territories.
Farm-raised salmon is BC's highest-valued seafood product and the province's top agricultural export, generating over $1.2 billion for the provincial economy and creating thousands of jobs. Additionally, farm-raised salmon provides a nutritious and sustainably produced protein with a low carbon footprint that contributes to Canada's food security and Blue Economy.
The BC Salmon Farmers Association represents over 60 businesses and organizations throughout the value chain of finfish aquaculture in BC. Our members account for over 95% of the annual provincial harvest of farm-raised salmon in British Columbia.
For more information, visit bcsalmonfarmers.ca.
MEDIA CONTACT
Michelle Franze
Manager of Communications, Partnerships and Community
michelle@bcsalmonfarmers.ca
604-202-4417