CAMPBELL RIVER, BC – Since 2017, out-migrating juvenile wild salmon have been monitored annually by independent professional biological consultants in multiple salmon farming regions of British Columbia. During this time, no data has shown an increase in sea lice levels on wild salmon that have migrated past salmon farms in the Discovery Islands region. (See Table 1 in the Appendix below).
Recent claims by anti-salmon farming campaigners suggest sea lice on juvenile wild salmon declined by 96% from 2020 to 2022 in the Discovery Islands region of British Columbia due to the removal of salmon farms from the area.
However, data collected by registered professional biologists1,2 does not support this claim.
"Professional biologists have consistently measured the abundance of sea lice on wild juvenile salmon at the same locations for the past seven years in the Discovery Islands region," explains Brian Kingzett, Executive Director of the BC Salmon Farmers Association. "The data shows that the sea lice abundance on juvenile wild salmon in 2022 was about 50% less than in 2020, however, that was the case both before they reached salmon farms and after they passed by salmon farms. Furthermore, 2022 sea lice levels were similar to 2017 and 2018 when all farms were active in the Discovery Islands region."
"Activists have changed sampling locations each year and selected just two data points to try and support their narrative while ignoring long-term trends from data collected all along the coast," adds Kingzett. "We now have seven years of independent sea lice monitoring demonstrating that sea lice levels have been consistently low with most out-migrating juvenile salmon while salmon farms were operating and after they were removed."
An updated analysis by DFO confirms that sea lice levels on farm-raised salmon in the Discovery Islands were kept well below the strict regulatory thresholds required during juvenile salmon out-migrations.
Additionally, a 2022 sea lice science response by the Canadian Science Advisory Secretariat titled "Association between sea lice from Atlantic salmon farms and sea lice infestation on wild juvenile Pacific salmon in British Columbia" concluded that there was no statistically significant association between sea lice on salmon farms and the probability of sea lice infestation on wild juvenile chum and pink salmon in Clayoquot Sound, Quatsino Sound, Discovery Islands, and Broughton Archipelago.
"The same narrative – this time shockingly slipping through the peer-review process – is recycled by anti-salmon farming campaigners annually," says Kingzett.
The BC Salmon Farmers Association released a sea lice report responding to the same claim made by anti-salmon farming campaigners in 2021.
The same anti-salmon farming campaigners have made recent claims attempting to link this year's high returns of adult pink salmon to the closure of salmon farms, which were also quickly debunked by the BC Salmon Farmers Association, resulting in major news media removing the claims from its website.
ABOUT THE BC SALMON FARMERS ASSOCIATION
BC salmon farmers are committed to reconciliation and operate under multiple agreements with First Nations in whose territories they operate. These agreements are founded upon recognizing First Nations' right to exercise jurisdiction over the land, resources, and waters within their territories.
Farm-raised salmon is BC's highest-valued seafood product and the province's top agricultural export, generating over $1.2 billion for the provincial economy and creating thousands of jobs. Additionally, farm-raised salmon provides a nutritious and sustainably produced protein with a low carbon footprint that contributes to Canada's food security and Blue Economy.
The BC Salmon Farmers Association represents over 60 businesses and organizations throughout the value chain of finfish aquaculture in BC. Our members account for over 95% of the annual provincial harvest of farm-raised salmon in British Columbia.
For more information, visit bcsalmonfarmers.ca.
MEDIA CONTACT
Michelle Franze
Manager of Communications, Partnerships and Community
michelle@bcsalmonfarmers.ca
604-202-4417
1 Juvenile Wild Salmon Sea Lice Monitoring. Mainstream Biological Consulting; Pacificus Biological, BC.  https://mowi.com/caw/sustainability/wild-salmonid-lice-monitoring
2 Juvenile salmon migration report; Discovery Islands. Hakai Institute Juvenile Salmon Program 2023. Page 9. https://bcsalmonfarmers.ca/wp-content/uploads/2023/09/Hakai_Juvenile_Salmon_Report_2023_Summary.pdf
APPENDIX
 Table 1. A summary of the prevalence, abundance, and intensity on juvenile pink salmon samples from the Pre-exposure, Exposure/Inactive, and Post-Exposure sub-area sites in the Discovery Islands between 2017 and 2022.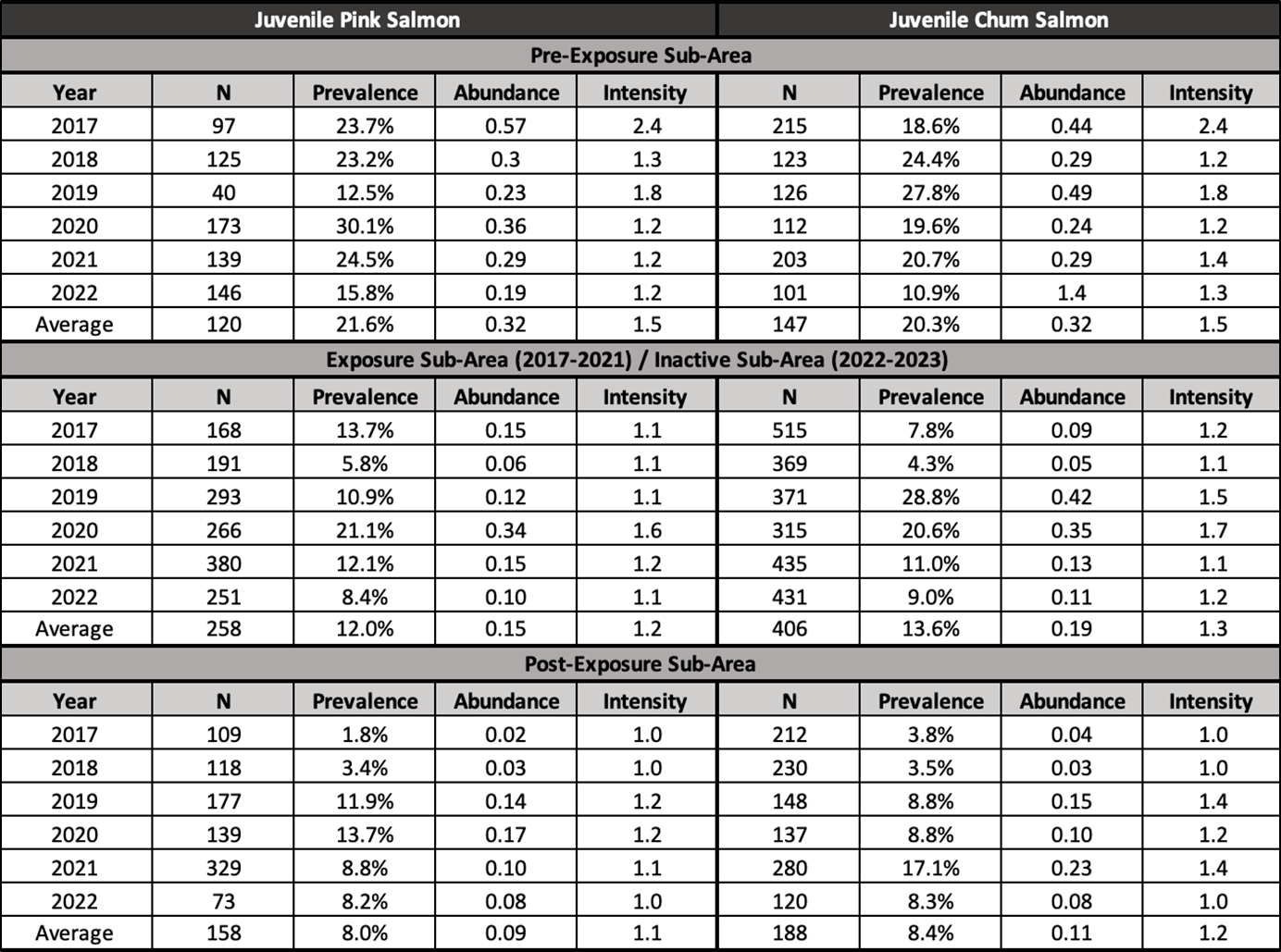 2017-2022 Data Source: Mainstream Biological Consulting. (2022). Wild Juvenile Salmonid Monitoring Program 2022 – Discovery Islands, BC. https://mowi.com/caw/wp-content/uploads/sites/7/2023/02/Discovery-Islands-Juvenile-Salmonid-Monitoring-2022-Version-3.pdf
Note = N = total number salmon juveniles sampled, lice data includes both species and all stages of lice observed through laboratory analysis.