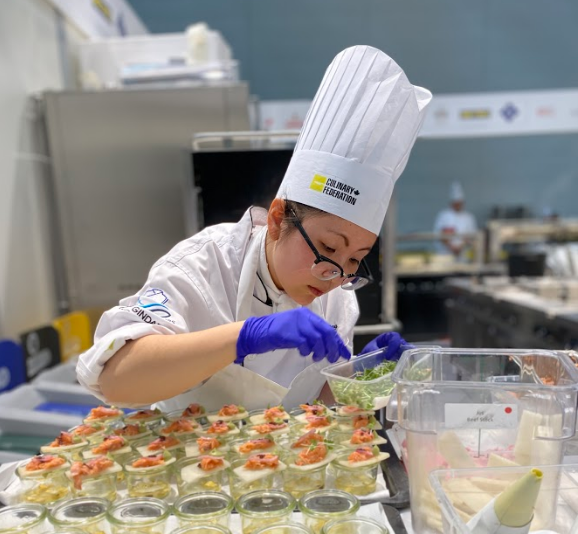 Celebrating Food Day Canada: Pan Roasted BC Raised Atlantic Salmon
Confit Yukon Gold Potatoes, Herb Marinated Heirloom tomatoes
Grilled BC Shishito peppers, Shishito Pepper Crema,
Maple Smoked Bacon, Sun Flower Crumb with Pickled Mustard Seeds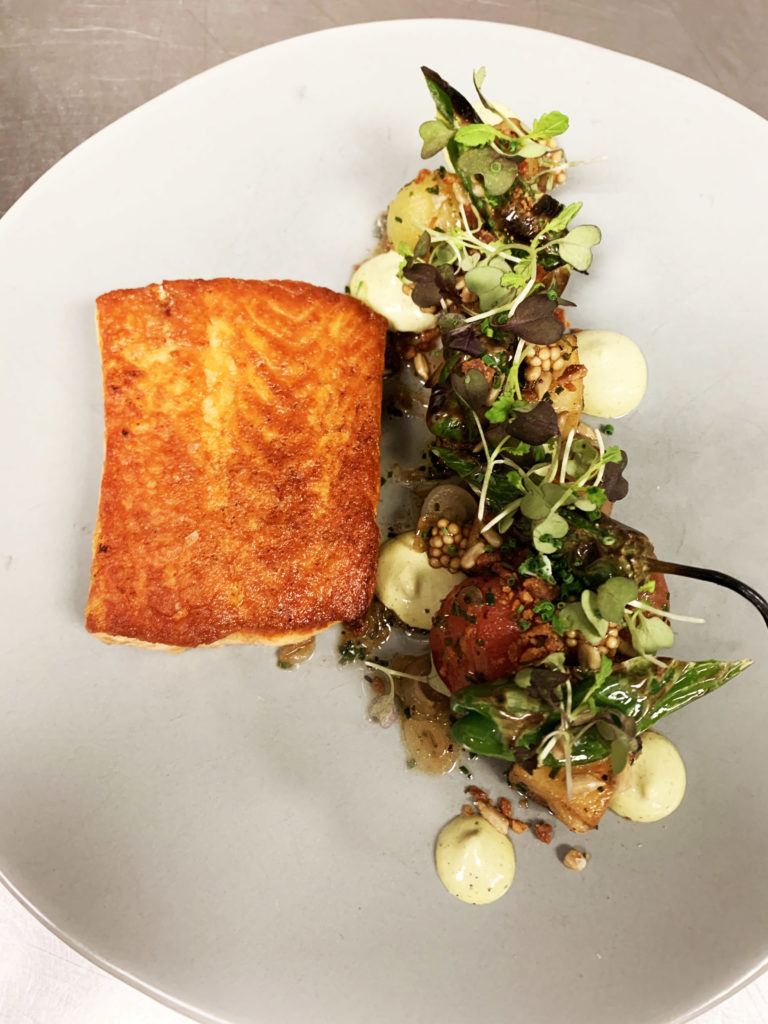 PAN ROASTED BC FARM RAISED ATLANTIC SALMON
1 piece 6oz portion of salmon
10g unsalted butter
2 sprigs thyme
1/2 lemon
1 clove crushed garlic
15ml canola oil
First, season the salmon with salt and let sit for 5 minutes.
Heat a small cast iron pan on medium high heat for a few minutes. Add canola oil and wait until you see a tiny bit of smoke from the oil.
Place the salmon in the pan, laying it away from you to prevent getting an hot oil on yourself. Cook undisturbed until the lighter-colour flesh has moved about 1/2 way up the fillets. This will take about 7 to 8 minutes for thick fillets and 5 to 6 minutes for thinner fillets
Once you see that it has come up 1/2 way on the salmon, gently flip it over and add the butter, thyme, garlic, and lemon juice to the pan. The butter will start to foam, as soon as it does, use a spoon to baste the salmon for 1 minute. The remove it from the pan and place on a tray with a resting rack, pouring the herbs garlic and butter over top. Set aside for plating
CONFIT POTATOES
500ml canola oil
5 pieces large diced Yukon gold potato
3g thyme
3g rosemary
1 garlic clove crushed
1 shallot pealed and cut in quarters
Combine all ingredients in a 1L sauce pot. Bring it up to a simmer and let it cook for 20 minutes, or until fork tender. Once potatoes are cooked remove from the oil and set aside for plating.
GRILLED SHISHITO PEPPER CREMA
10 small sized shishito peppers
75g high fat content sour cream
10g Feta
1 lime, juiced and zested
1g cumin powder
Salt and pepper to taste
Toss shishito peppers in a small amount of olive oil and season with salt and pepper. Place on the grill until they start to blister and soften around 2-3 minutes per side.
Remove from the grill and reserve 3 for plating.
With the remaining 7, combine with the rest of the ingredients in a high-powered blender and blend until smooth. Taste for additional seasoning and reserve for plating.
MARINATED HEIRLOOM TOMATOES
4 heirloom tomato's
33g lemon juice
33g agave syrup
6g salt
3g basil
3g thyme
3g tarragon
3g chives
1 lemon, zest and juiced
In a medium pot of boiling lightly salted water, blanch tomato's for 10 seconds.
Remove and place into ice water, peel and set aside.
Fine chop herbs and add them to a medium size bowl with remaining ingredients and whisk until combined well together.
Add tomatoes and marinade over night.
MAPLE SMOKED BACON AND SUNFLOWER CRUMBLE
30g Maple smoked bacon
20g Sunflower seeds
Pre heat oven to 325F degrees. Line two small baking trays with parchment paper. On one tray place the bacon and the other place the sunflower seeds.
Put both in the oven.
Bake the sunflower seeds for 7 minutes or until lightly browned. Remove and set aside
Bake the bacon for 15 minutes or until very crispy. Remove from the tray and place on a paper towel to soak up any excess grease. Then fine chop and add to the sunflower seeds.
YELLOW PICKLED MUSTARD SEEDS
35g white wine vinegar
15g water
10g sugar
1g salt
20g Yellow mustard seeds
Bring all ingredients to a boil and simmer until reduced by 1/4. Cool and reserve for plating.
PICKLED PEARL ONIONS
4 pearl onions pealed
150ml water
100ml white vinegar
30g sugar
4 pieces cloves
1g yellow mustard seeds
1/2 lemon, zested
7g salt
Place pearl onions in a small heat proof container. In a small saucepan place all other ingredients and bring to a boil. Strain and pour over pearl onions. Let sit over night. Drain and cut in half for plating.
For plating the dish, start off by laying down the 5 confit potatoes on the right side of the plate, just off centre leaving spaces in between them. Use the whole side of the plate and leaving a little space around the rim.
Place the marinated tomatoes between the potatoes and then the grilled shishito peppers on top of both the potatoes and tomatoes.
Next using a spoon, sporadically spoon the pickled mustard seeds and the pickled onions.
Sprinkle the maple bacon and sunflower crumble on top and then dot the shishito pepper crema around. Finish with adding fresh micro mustard greens on top.
To finish the dish, add the pan roasted piece of Atlantic salmon to the left.